LE TOUX NOTICES SIMILARIES BETWEEN FANS IN PHILLY, VANCOUVER
Of course,
Sebastien Le Toux
is concerned with the response he'll receive from Union fans when he and the Vancouver Whitecaps arrive at PPL Park Saturday.
But if there's one thing Le Toux's learned from his experiences with both fanbases, it's that he's wasted no time in endeared himself to both.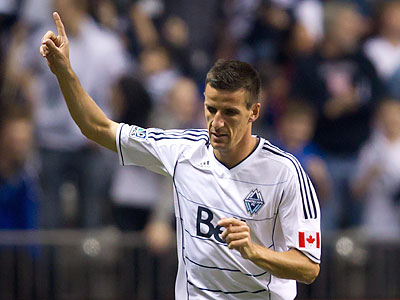 "I scored in the first five minutes of my first game (with Vancouver), and I was happy to pick that off my back," Le Toux told me in a phone call earlier this week. "There was an expectation when I got here to score here, too, like I did in Philly. That's why they (traded for) me and I was glad to do that right away. I was just happy to win the game."
Le Toux netted a hat trick April 10, 2010 at Lincoln Financial Field in a 3-2 win over D.C. United, accounting for his first three goals in a Union kit in their first home opener.
"I was very pleased that day, to make people be happy because that was my team and they were with me from the beginning," Le Toux said.
There was a bit of contention when Le Toux was traded to Vancouver Jan. 31 for allocation money. Le Toux said it was for nothing more than money. The Union, and manager
Peter Nowak
, have never reasoned why they traded away Le Toux, who scored 25 goals in two seasons with the club. Nowak has said only that the Union are attempting to build a club around a group, not around one player.
Only one more day separates Le Toux from his homecoming. Less than 24 hours until we find out what kind of reaction he'll receive. Pick up Saturday's
Daily Times
for more from my conversation with Le Toux.
(Photo: Associated Press)
Labels: Peter Nowak, Sebastien Le Toux