MAKING (CENTS?) OF CALIFF RUMOR
Califf (Associated Press)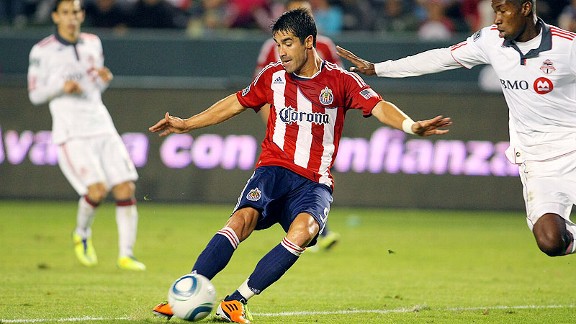 Angel (Getty Images)
As Sunday creeps closer to Monday, the rumored trade taking
Danny Califf
to Southern California seems to strengthen.
The latest word on the Web has Califf heading West, with
Jack McInerney
, for Chivas USA's
Juan Pablo Angel
. Early Sunday afternoon, we didn't even have that much detail.
Union boss
Peter Nowak
confirmed Sunday, following their 3-2 loss to New York, what had been kicked around online for nearly a day: That the Union, teetering on the brink of relevance, are listening to a trade offer for Califf.
But is this the right decision for the Union?
From Nowak's standpoint, it seems like an easy decision. The Union's strength is, and has been for two seasons, on the defensive side of the ball. So Califf, the 32-year-old captain of the Union, becomes expendable, especially when Chivas is waving Angel, a 36-year-old striker with a proven track record for scoring goals in bunches, in the Union's faces.
From the fans' standpoints, it's not so clear. The supporters of the Union see their team casting off another fan favorite – like when they traded
Sebastien Le Toux
Jan. 31 and released goalkeeper
Faryd Mondragon
a day later.
There's also the dollars-and-cents angle of this.
The Union, at 2-6-1 and closer to the Eastern Conference's cellar than its surface, are pointed toward a losing season. Through nine games, they've made the leashes for SuperDraft picks
Chandler Hoffman
and
Raymon Gaddis
longer than most of their untested rookies in previous seasons. And the Union's technical staff has made it clear that, if provided the chance to play Homegrown Players
Zach Pfeffer
and
Cristhian Hernandez
, they are more apt to take those opportunities than pass on them.
So trading Califf seems like a natural fit for a team that, on the surface, looks like it wants to get younger while shedding salary in the process. Win-win, right? Not necessarily. Califf made $250,000 in base salary in 2011, as reported by the MLS Players Association in September. And Angel? He made $1.25 million according to the same report.
According to MLS Pressbox, Angel is a former designated player, which means his salary has drastically decreased. Only $350,000 of a DP's salary counts against his team's cap. So if Angel's DP tag has been removed, his salary might be comparable to, if not lower than, Califf's.
That makes acquiring Angel appealing to Nowak and the Union. That is, before you allow the opinions of Califf's teammates to factor in. Califf is "the good guy" in the locker room who always "looked out" for the younger guys on the team, according to
Sheanon Williams.
Fellow centerback
Carlos Valdes
, the captain of the Union in Califf's five absences this season, called Califf "the leader inside the field."
It's a toss up. Just depends on which side of the coin you stand.
Labels: Carlos Valdes, Chandler Hoffman, Chivas USA, Cristhian Hernandez, Danny Califf, Faryd Mondragon, Jack McInerney, Peter Nowak, Raymon Gaddis, Sebastien Le Toux, Sheanon Williams, trade rumor, Zach Pfeffer