OKUGO OK TO PLAY WHEREVER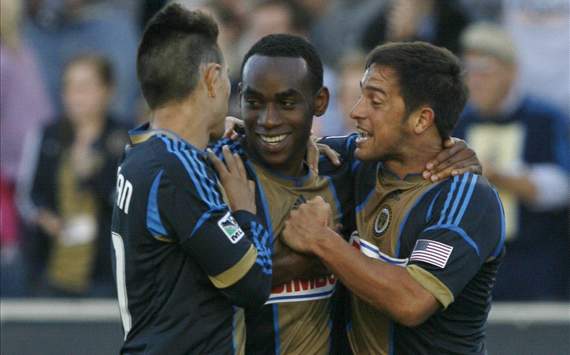 (Getty)
Amobi Okugo
has played every minute of every match since
John
Hackworth
grabbed the keys to the Union from
Peter Nowak
.
He hasn't played like he needs a break, either.
Fact is, Okugo has played well, whether it's been in the midfield or in the central defense, for the Union. The third-year player said Tuesday he's relishing his chance to play, and it hasn't mattered where on the pitch his minutes have come.
"Dosn't matter," Okugo said, on a phone call from the Philly airport. "I've shown that I can play two legitimate positions, especially with
Carlos
(
Valdes
) getting called up (to the Colombian national team) from time to time. It's good to know I can play centerback, and it's good Coach Hackworth has given me the chance to do that."
Okugo shouldn't necessarily get cozy at centerback, with
Bakary Soumare
presumably returning to the pitch for the 2013 campaign at 100 percent. There's a reason the Union went after Soumare. It wasn't necessarily to shore up their defense in 2012, either, with Soumare still nursing a surgically repaired knee.
But like Okugo said --- doesn't matter where he's playing, so long as he's playing.
For more on Okugo and the Union, who are in Chicago Wednesday to face the Fire, pick up Wednesday's Daily Times.
Labels: Amobi Okugo, Bakary Soumare, Carlos Valdes, John Hackworth, Peter Nowak