HARD-WORKING LAHOUD'S OK WITH BEING 'THAT GUY' ON OTHER SIDE OF TRADE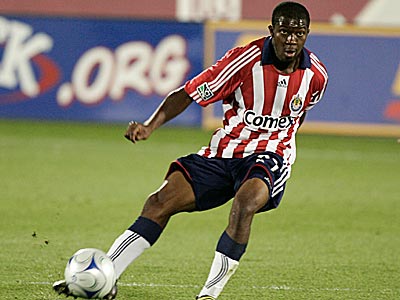 (Associated Press)
The other day, walking into Springfield's Healthplex for training,
Michael Lahoud
said he encountered some Union fans.
They weren't unlike others he had come across since Thursday, when the Union traded
Danny Califf
to Chivas USA for Lahoud and allocation cash. But what Lahoud's learned, in his few days with Philly, is that Union fans can be blunt.
"There have been a couple jokes here and there that definitely, from talking to people on the streets or going to places like the Healthplex yesterday, a couple people are like, 'Hey, you're the guy we gave up the captain for, right?'" Lahoud said Wednesday, at PPL Park.
Yes, that's Lahoud --- the 25-year-old midfielder for whom the Union traded their captain.
He expects he's going to carry around that banner during his time here, but Lahoud -- who debuted with the Union in the starting XI at FC Dallas -- said he's not feeling any more pressure to perform because of the departure of Califf, a popular guy among those in the locker room and in the stands.
"If there is, for whatever reason, I haven't felt too much of it," said Lahoud, who said a few players from the Union called him Thursday to welcome him after news of the trade trickled out. "If anything I've felt a lot of support, especially from the fans and the coaching staff. They've done a good job of taking the pressure off."
Here's what Lahoud wants fans to know: He's a good dude, a chill guy who's willing to work hard to get results. (Sounds like Califf.) But it's something Lahoud read about, to prepare himself for the supporters in Philly. In fact, he said, it's what he's carried with him every step of his career --- from counting Union centerback
Sheanon Williams
as a teammate with USL PDL side Carolina Dynamo back in 2008, through to the present day.
"From my experience, since I've been in the league, every coach I've had so far, that's something that's been pulled out of me," Lahoud said of his determination. "For whatever reason, I'm very grateful every coach I've had has demanded that of me to put the effort – whether it's training or, more importantly, in games. While I'm here, I just want to be me. Hard work, honest effort and discipline – that's my discipline.
"Just from talking to Peter, it's an extension of what I've been doing with my career. It's an honost effort on both sides of the ball. From what I've understood so far, it's an asking and a willingness to be more productive on the offensive side of the ball but still maintain defensively. Just be honest on both sides of the ball and be a two-way player."
Sounds like a guy everyone's going to like having around ... even if it meant trading away the captain.
Labels: Chivas USA, Danny Califf, Michael Lahoud, Sheanon Williams, trades