VALDES IN ALL-STAR GAMEDAY ROSTER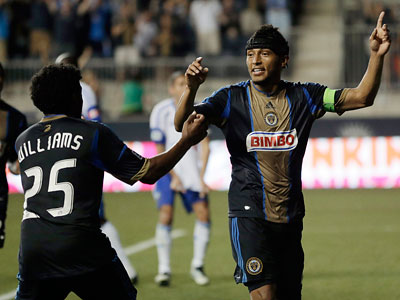 (Associated Press)
Union captain
Carlos Valdes
has made the MLS All-Star Game's 18-man roster, and will be eligible to play July 25 at PPL Park against Chelsea FC.
This will represent the first All-Star Game appearance for Valdes, a second-year MLS player who has anchored the Union's central defense since 2011. He was named the club's captain in May, following the trade of
Danny Califf
to Chivas USA.
"I think it;s fantastic for Carlos and he's most deserving of this," said Union interim manager
John Hackworth
, who will assist D.C. United coach
Ben Olsen
with the MLS All-Star Game's technical staff.
"Carlos has had two outstanding seasons with us, he's our captain and it's an honor. We needed another centerback on this roster, and Carlos is one of the best centerbacks in the league. He's very deserving of this."
Valdes earned the All-Star nod Sunday as one of two players voted in by MLS commissioner
Don Garber
. Both Garber (two selections) and Olsen rounded out the All-Star Game's 18-man roster. The first XI were named a week ago.
It's been a whirlwind 24 hours for Valdes, who followed up his game-winning goal Saturday against Montreal with the first All-Star selection of his career.
The Union have had three All-Star selections in as many seasons since joining MLS in 2010. Striker
Sebastien Le Toux
started the 2010 showcase game and
Faryd Mondragon
got the start in goal in 2011.
Labels: Ben Olsen, Carlos Valdes, Danny Califf, Don Garber, Faryd Mondragon, John Hackworth, MLS All-Star Game, Sebastien Le Toux