UNION BENEFITING FROM A FREE KEON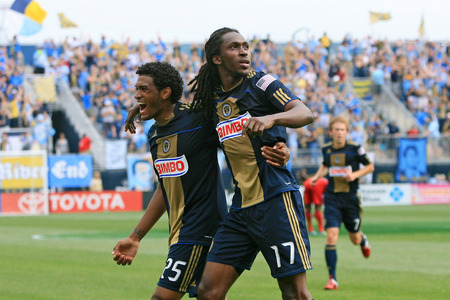 (Associated Press)
Keon Daniel is back.
Physically, yeah, he's been here all season. Tactically, he never looked better than in the Union's 1-0 victory over New England.
It was Daniel's free kick in the 73rd minute that Jack McInerney got on the other end of, heading it in for the match's only tally. It extended the Union's reign over the Revolution (4-0-3 all-time) and gave the club its first winning streak in three months.
It also gave the Union plenty of reason to keep playing Daniel, the midfielder who's gotten two straight starts.
"I've been working hard to get my confidence back," Daniel said. "I'm a guy that, when confidence is there, it's high. And when it's high, it's hard to play against me."
Daniel was particularly candid Saturday night. (Try this one on for size: "I'm comfortable anywhere because football is football," he said. "Put the ball in a good spot and something good will happen.") He even addressed his desire to stay in Philadelphia, which was a challenge a year ago, when then-coach Peter Nowak said visa issues kept Daniel in his native Trinidad & Tobago. (On that topic, I've gotten confirmation, from a source close to Daniel, that visa issues were not to blame.) Remember all of those 'Free Keon' tweets? Daniel wasn't sure about his status. He hopes his play Saturday shored it up some.
"Of course I'm happy to be here. I love being here," Daniel said. "I call here my home, my second home. I'm just going to keep working hard with the guys and try to help the younger guys with the experience I have. I'll keep pushing them. Knowing your teammates is a hell of a thing. When you get comfortable with your teammates, it gets easier."
But will Daniel be back next season?
"I hope so. That is not my call. It's the league and the coaches' call," Daniel said.
If he has matches like Saturday's, Union boss John Hackworth will have no excuse not to bring back Daniel. Hackworth said Daniel's performance in the match, with featured spot-on free kicks throughout, was the best he's ever seen from Daniel.
"It's been a while since I've had a performance like this," Daniel said. "I'm just getting comfortable. I owe the fans because they had high expectations of me. I haven't been the best I can and it's something I have in my mind to give back to these fans – these lovely fans we have – and even this league and my teammates. So I'm just working on it."
Labels: Jack McInerney, John Hackworth, Keon Daniel, New England Revolution, Peter Nowak